What is Multipurpose Eco Cloth ?
Multipurpose Eco cloth is made from coarse fabric that was traditionally used by Japanese to make mosquito nets. Due to the increase of modern technology and declining demand for mosquito nets, materials were instead made to Multipurpose Eco Cloth while keeping its traditional weaving techniques.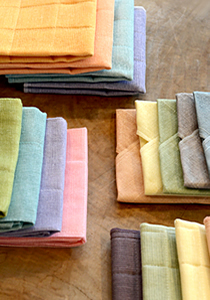 Outstanding features
DURABILITY

Multipurpose Eco Cloth is washable and dries quickly.

LONG LASTING

Multipurpose Eco Cloth is made from high quality materials.

SOFT TEXTURE

After first wash Multipurpose Eco Cloth will quickly turn soft for easy and enjoyable use around the house.

SAFE AND HIGH QUALITY MATERIAL

Multipurpose Eco Cloth is owned and run by an integrated manufacturer. We therefore ensure that the product is carefully made from the finest high quality materials keeping it's traditional weaving techniques. We have full control of its production from its raw materials to the final outcome.

WIDE RANGE

Multipurpose Eco Cloth has a various range of colors, sizes and cloth materials to choose from.

*Usage precautions

Some colors might slightly fade.
Do not bleach.
Do not use laundry dryer.
Starch coating is washable in the first use.
Size will slightly change after wash.
Product